How I became the T-Shirt Lady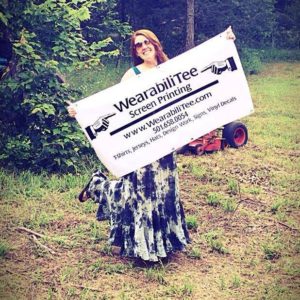 I graduated from UCA with a business degree and a plan to go into the insurance field. After 4 years of bouncing from different areas of that field to another, struggling with the daily commute and lack of creative outlet I happened upon screen printing. It was merely by accident. I wanted to get some shirts made for a small group of friends to commemorate a funny event. After calling to get pricing, I was turned off by the lack of effort anyone put into the small job I was inquiring about. No effort to explain my options at different price points or even care what I wanted the shirts for so they could offer the best option. I've always been a do-it-yourself-er so I figured how hard could it be. After an attempt using actual window screen from the hardware store, contact paper, and a sewing hoop, I was rather impressed with my efforts. I continued to research the actual processes and techniques used and slowly but surely, after mastering a lot of homemade equipment, I figured it out well enough to upgrade to the real deal.
After 6 years I am still figuring it out. I learn something from every job I do, whether that is a better technique or a better business practice, there is so much to learn when running a business. That is what keeps me excited about this field, there is always something to learn and there is always room to grow.
But more importantly than how much fun I have making shirts that make people happy, I love that I am able to make my family happy. The lifestyle this business has allowed me to have is irreplaceable. My 2 boys have a clubhouse built in a corner of my shop. My oldest thinks using the flip-and-fold is fun. And late nights rushing against a deadline with my husband at my side is no work at all. I love my job so much and I hope that shows through the way I deal with my customers and the quality of my work.